New products and new machines coming soon
Humans have always wanted to fly and to see the world from a different perspective; some people just want to see the green fields or the cities and villages from up above. There are Engineers and Builders who want to monitor the act ivies they are involved in to make sure they are having as little impact on the countryside and the environment as possible. Our mission at  Air-Vision-Air is to show you how this can be done in the most Green and Environmentally friendly way that is possible using today's technology at a price that is sensible for the purchaser and the seller.  ( and it's a lot of fun as well!!). The co-founders of Air-Vision-Air (AVA) have been building remotely piloted vehicles for over 30 years but it is only recently that both the cameras and the control technology has evolved that now enables us to present to you the  HORIZON 3  (Autonomous Unmanned Aerial Vehicle or UAV) .
The HORIZON 3 UAV can be easily programmed using a laptop PC to fly a very specific route using GPS points from takeoff to landing and to acquire Images or Data at specified points along its flight path. The HORIZON 3 aircraft is small and light weight making it easy to transport and store. The traditional method of performing this type of survey was to use light aircraft or helicopters to carry 2 or more people over the site and they take the pictures you need out of the windows. It works, BUT……The cost is high and the result is often poor quality and not very accurate. The environment suffers and there are many places that they cannot safely operate, their activities can also be very disruptive to workers and neighbors..
Our HORIZON 3 UAV is safe, quiet, efficient and electric powered, It has an operating range of approx.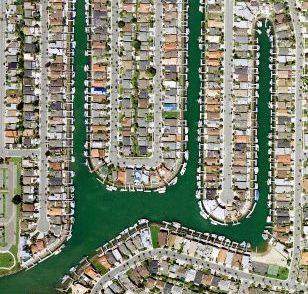 20-35 miles for a round trip and is simple to operate. It needs no runway just a small open space to operate from,  It carries a high quality and lightweight 10M Pixel camera (or other sensor payload ) and records all of its imaging and GPS points for later analysis of the results.The Quality of the images is much greater than the images taken from a full-size aircraft and the flight path is repeatable for comparisons of progress on a site over several weeks or months to be made. The operation can be performed quickly and easily with only minimal planning, no need to book a plane and pilot or to travel to the nearest airfield each time you need to take some pictures.!  The images are generally taken from a height of 200-500 feet and the HORIZON 3 has an airspeed of about 25 mph. Images can be taken very close together and these overlapping images can be electronically merged together into a large image of the target area. The low altitude and the slow speed enable a very high resolution to be achieved.
So who uses this technology?
Farmers – To check the growth of crops or the spread of weeds.
Engineers – To record the before/ after states of the building project environmental survey.
Road Planners – To check the route of new or improving roads.
Cities – To check for new changes to housing that affects the taxes.
Archaeologists – To search for historical sites.
Hunters – To search for Deer and game.
Photographers – To gain access to remote or difficult sites. A different view on the world.
Real Estate agents – To describe sales properties.
Environmental scientists – to monitor changing conditions. 
             We know that there are many other potential uses and users that will benefit from the  HORIZON 3 aircraft system for recording images from over the HORIZON. Let AVA help you with your needs.
For information email to sales@Air-Vision-Air.com       We are ready to help.
 All images, text and data on this entire site are copyright © and must not be copied or reproduced without our written permission, thank you.